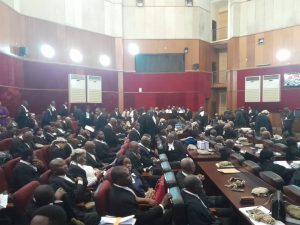 Legal representative for the All Progressives Congress (APC), Adeniyi Akintola, relayed to the Presidential Election Petitions Court on Tuesday that their legal team has been directed to avoid media interactions concerning the ongoing case.
Akintola was responding to the presiding justice, Justice Haruna Tsammani, who had suggested the petitioners decrease their legal team size to allow for more public involvement.
Akintola communicated the team's stance that any lawyer conducting post-proceeding press conferences would face expulsion, emphasizing that all matters discussed in the courtroom stay within it.
"My lord, if you observe none of our lawyers does that, anything said here remains here," Akintola quoted.
Furthermore, Akintola notified the court of the refinement in the APC team, comprising 38 Senior Advocates of Nigeria and other attorneys, such that each lawyer is assigned a specific week to attend the proceedings.
Chris Uche, head counsel to the Peoples Democratic Party (PDP) and Atiku Abubakar, promised that their legal team would also be pruned down in line with the court's request.
However, he highlighted the instructive value of election petition periods for lawyers to gain experience in election petition procedures.
The post Tribunal: APC Bar Lawyers From Talking To Press appeared first on Naija News.