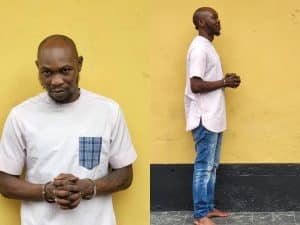 The in-law of the president-elect Bola Tinubu, Tee Mac has pleaded with the Inspector General of Police, Usman Alkali Baba, to release the son of late Afrobeat singer and activist Fela Anikulapo-Kuti, Seun Kuti.
This followed the adjournment of the singer's trial today by the Chief Magistrates Court in Yaba, Lagos State.
Recall that Seun had slapped a police officer on the Third Mainland Bridge, on May 13, and turned himself in on May 15, after the Inspector General of Police, Usman Baba ordered his arrest.
Appealing to the police boss in a chat with the PUNCH, Tee Mac expressed disappointment in Seun's action.
He stated that though the singer is like a son to him, it was wrong for him (Seun) to slap a police officer in the manner that he did.
"Seun is like an adopted son to me. When Fela died, Beko handed him over to me. I am not pleased about the situation in which Seun finds himself. I appeal to the IG to release him now," Tee Mac pleaded.
Pleading further, Tee Mac noted that Seun's release is expedient because he has learned a bitter lesson from the ugly experience and there is no need to look for more reasons to punish him.
He said: "He has learned his lesson. It was wrong for Seun to slap a police officer;I agree to that, but it is not good now to look for other things to punish him more. Seun has a hot temper and is surely regretting the whole affair."
 Speaking further, he noted that arresting and detaining Seun was enough punishment already, hence his appeal to the IG for his (Seun's) release.
 "Seun had quite a hard punishment already. But it's good to be merciful and forgive!"
 "Being in the hands of the Nigerian police is the worst punishment one can get. Eating their rotten food, sleeping in those smelling cells! The police are hardly human, they are part of an inhuman society!"
The post Seun Kuti: Tinubu In-Law, Tee Mac Sends Police Boss Strong Message appeared first on Naija News.