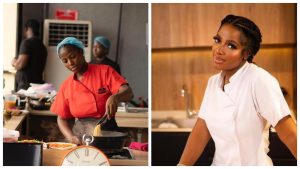 Nigerian chef, Hilda Baci who gained popularity following her 100 hours of marathon cooking to surpass the previous Guinness World record set by an Indian chef, Lata Tondon, in 2019 for the longest time spent by an individual on cooking has opened up about past struggles in her life.
Speaking during a recent TV interview, the 27-year-old chef narrated that things had not always been smooth for her but she hopes her story motivates other people not to give up.
According to her, at a point in time, she was homeless but she didn't give up.
Baci narrated further that though she has achieved some things right now, she is not stopping or resting on her oars.
"A lot of people see this buzz now, and most of them think I dropped from the sky. They don't know I was homeless at some point. There's an entire phase and journey that got me here, and I'm not even done.
"This is still part of a journey. I'm still on a path, and I'm still going. It's not always going to be rosy. It's not always going to be easy. But we need more examples like this so people can say, 'Hilda did it, so I can do it as well," she said during a recent interview with TVC.
The post "I Was Homeless At Some Point" – Hilda Baci Opens Up On Past Struggles appeared first on Naija News.