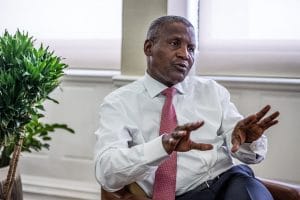 President of Dangote Group, Aliko Dangote, on Monday, revealed that many times, he felt like giving up on the refinery project due to some setbacks.
Speaking at the commissioning of the refinery project in Lagos, Dangote however revealed that some persons encouraged him by their words and their actions and now the world's largest single-train refinery is a reality.
He revealed also that the desire to go into the petroleum sector began two decades ago and with the support of many parties and individuals, the refinery project is now a reality.
Dangote singled out President Muhammadu Buhari as a great source of motivation and strength, saying Buhari's confidence and quiet words of assurance kept him going when the difficult times arose.
"Mr. President, Distinguished Guests, the journey to this event was long and arduous. It could not have been possible without the support and collaboration of many parties and individuals.
"So, permit me Your Excellencies, Distinguished Guests, to recognize and appreciate just a few.
"Let me start with Your Excellency, Mr. President. Your sustained support and encouragement over the past eight years have been, for me personally, a source of great motivation and strength. At times when I felt like giving up, your confidence and quiet words of assurance have made the difference. Mr President, I thank you from the bottom of my heart," he said.
Dangote was also full of appreciation for the successive Lagos State governments, starting from the era of President-elect Bola Tinubu, who governed Lagos between 1999 and 2007, till incumbent Governor Babajide Sanwo-Olu.
He praised the state government for always showing interest in an investment-friendly environment.
In his words, "Those like me, who have made Lagos our home will testify that since the beginning of the current democratic dispensation, the government of Lagos State has been exceptionally remarkable in its commitment and support for the private sector."
"From the tenure of the President Elect, H.E Asiwaju Bola Ahmed Tinubu who established the Lekki Free Zone, to the incumbent governor H.E Babajide Sanwolu who has been most proactive in ensuring the successful execution of this project, the State government has indeed demonstrated great commitment to promoting an investment friendly climate, which made it possible for Our Group to invest over $30billion in various industries in the state economy over that period.
"I would like to express our deep appreciation and gratitude to the Lagos State government and its successive governors for the resolute facilitation of this enabling business environment."
The post Dangote Reveals What Buhari Did That Made Him Not To Give Up On Refinery Project appeared first on Naija News.