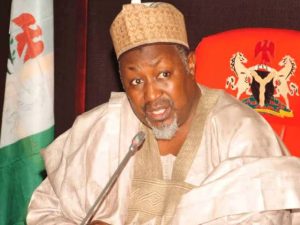 The Jigawa State Governor, Muhammad Badaru Abubakar, has come out to say he regretted fraternising with some chieftains of the All Progressive Congress (APC).
The governor said these chieftains are enemies who are spreading false rumours about him, adding that it is regrettable that he has been dining with their enemies all this while.
Badaru made this submission when he received the Chairman of Gerawa company, Alhaji Isa Ahmad Gerawa, who is also a chieftain of the party, over the weekend.
He said,  "It is regrettable that some of my trusted political allies and frontline APC members have been spreading lies against me and some party leaders to create confusion and crisis in the party to achieve their self-interests
"It is regrettable, we have been closing doors with our enemies unknown to us they were not on the same page with us.
"Many of those bad elements were out of envy of other people's progress and the achievement we recorded in government.
"They have been spreading lies against me, which created misunderstanding between me and some of our party leaders and government officials.
"I thank God, Almighty God had exposed all those bad elements and their nefarious activities.
"Today APC family is intact, we won our election, and by God's grace we will remain focused on unity and progress of our party, Jigawa State, and Nigeria.
"If not because of Governor Badaru's kindness, most of the crisis and misunderstanding between us could have not been controlled.
"As time goes we all discovered the hypocrites who want see APC in disarray because they believed with unity in our party and Badaru as a leader, their ill motive and selfish interest could not be achieved.
"Today we have forgiven Governor Badaru, and we hope he will forgive us, all these hypocritical people are no longer relevant in the party, we have politically buried them and they will not resurrect in Jigawa politics."
Gerawa noted that the party had declared war against any hypocrite who wants to create any crisis in the party.
It would be recalled that the Jigawa State Magistrate Court sitting in Dutse remanded the former state chairman of the APC, Habibu Sani Sara, and Habu Karami Jahun in a correctional centre following their arrest by the police.
They were arrested, detained, and arraigned before the court on alleged defamation, slandering, and smear campaigns against Badaru's reputation.
The post I Regret Fraternising With Some APC Chieftains – Gov Badaru Spills appeared first on Naija News.