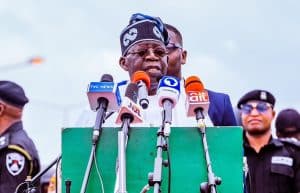 As preparation for the inauguration of the incoming government gets in top gear, the Church of Nigeria, Anglican Communion, has list nine key areas worthy of focus by the next administration.
Naija News gathered that the Church's Primate, Most Rev. Henry Ndukuba, said the incoming administration of Bola Tinubu should focus on the area of security of lives and property, education, healthcare, economy, rule of law and law enforcement, all-inclusive government, addressing infrastructural neglect, completion and operation of critical industries and building of a united and prosperous nation.
Ndukuba, while delivering his presidential address at the first session of the 12th synod of Abuja Diocese with the theme: "Synodality: The transforming journey with Jesus Christ," said there was no better time than this period to test the resilience of the nation's judicial system in the Presidential Election Petition Tribunal.
While congratulating Tinubu and members of the 10th National Assembly, he noted that "Having interacted with political actors, the Anglican Communion demands of the President-elect and his team, the Governors-elect and the national and state legislators that emerged victorious at the polls to give due diligence to the following, namely:
"Nigerian citizens demand that the government put a high priority on the security of lives and property o citizens by providing adequate security for all citizens. The present state of insecurity and attacks on Christian Churches, communities and indeed the citizens of this country, is worrisome.
"The government should ensure that the education of our children at all levels is given top priority, as this is the best legacy our country can bequeath to her youth. The government should improve the healthcare delivery system so that the current medical tourism among top government functionaries and privileged few can be completely eradicated or reduced. We have the capacity to provide and be a destination for health tourism, at least in Africa.
"We have great apprehension over the rising inflation, debt servicing burden, fuel subsidy and fear for the future of Nigeria. Alleviating the suffering of the masses should be the priority of the government, hence the Church demands adequate provision of education, economic empowerment and job creation/employment opportunities for the teeming youths and citizens.
"The provision of grants and loans for indigent people as a social safe-net for the citizens will offer every citizen the opportunity to contribute to the development of the country they call their own.
"The government needs to take as very important the development of key critical projects that are strategic for more economic and technological development of the country, especially, the Ajaokuta Steel Industry, our refineries and the need for modular refineries, textile industries and other Agro-based Industries. These sectors will engender fast economic growth and employment opportunities in the country."
The post Anglican Church Presents Nine Point Agenda To Tinubu's Govt Ahead Of May 29 appeared first on Naija News.