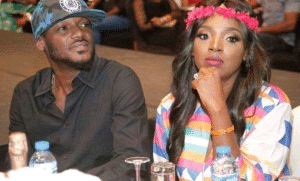 Annie Idibia, the wife of legendary singer, Innocent Idibia, popularly known as 2Baba of 2Face, has expressed her disappointment after her husband asserted why men cheat on their spouses.
Naija News understands that while speaking during a recent chat with Nadia in the second season of the Young, Famous and African reality show, 2Face said that men cheat on their lovers with women they don't love because their genitals have a mind of their own.
The famous singer mentioned this in the presence of his wife. According to 2Face, most times when men cheat on their lovers with other women, it doesn't mean they want relationships with the other women.
"Like it or not, men are wired like that. A man will love a woman to hell. But maybe he is somewhere, his dick would just decide something to f*ck," the African Queen crooner said men just want to have s3x.
Nadia intruded saying: "No, his mind, not his dick. It's not its own entity."
2Baba retorted: "Okay, however, you look at it, he will f*ck. But he will not even give a f*ck about that person. He just wants to sort out that sh*t."
Annie, who was not impressed with her husband's response asked, "Are you talking generally or yourself? Is that you or is that your belief?"
The singer replied, "It's what I believe."
Annie replied saying she was heartbroken hearing 2Baba said what he said.
The post I Am Heartbroken – Annie Idibia Voices Out As 2Face Speaks On Why Men Cheat appeared first on Naija News.