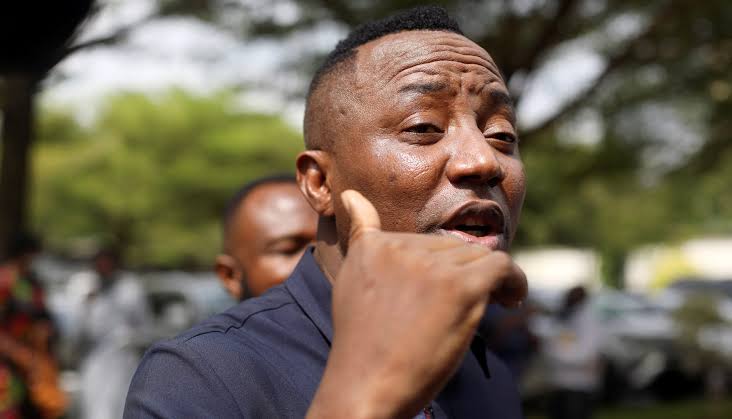 The presidential candidate of the African Action Congress (AAC), Omoyele Sowore has accused the Nigerian police of holding a secret trial for Seun Kuti.
Speaking via a tweet on Thursday morning, the human rights activist alleged that the Nigerian secretly took Kuti without informing his lawyers.
He wrote, "@policeng secretly took Seun Kuti before the Chief Magistrate, Mrs. Adeola Olatunbosun today without informing his lawyers. The Magistrate reportedly granted police request to extend their investigation time for four more days.
"The reason was to ensure @RealSeunKuti is prevented from resuming his #GETTHESAX Summer Tour which was billed to start on May 20, 2023 in Calvia, Spain. This was never about getting justice but to exact maximum revenge. #Revolutionnow." 
It would be recalled that Sowore was the one who informed the Nigeria police of Seun's willingness to appear at the commissioner of police's office, as a way of cooperating with them in their investigations of what transpired on the third mainland bridge, that led to the assault on an officer of the law.
Seun Kuti Lawyer Speaks On Police Seizing His Gun License
Meanwhile, counsel to Kuti, Olumide Adeyinka-Fusika (SAN), has revealed that he is unaware of the seizure of his client's gun license by the police.
Naija News gathered that Adeyinka-Fusika told The Punch that the seizure of Kuti's gun license has no connection or relation with assaulting a police officer.
It would be recalled that the musician had over the weekend attacked a police officer because he allegedly threaten to kill him and his family members.
Kuti on Monday turned himself into the police for I investigation, after which he was detained.
However, on Tuesday, a Lagos State Magistrates'Court in Yaba granted an order for him to remain in police custody for 48, after which his bail will take effect.
The magistrate was quoted to have said, "The defendant is hereby remanded for 48 hours in police custody to allow the police to conclude their investigation. After 48 hours, his bail will take effect."
However, a source confided in The Punch saying policemen seized the gun licence during a search of the musician's house in Ikeja on Tuesday.
The source said "The officers that searched Seun Kuti's home on Tuesday only found a gun licence, and they seized it. I can confirm that the command is currently working on revoking the licence."
Reacting to that development, Kuti's lawyer said he was not aware that his client's gun license was seized during the search.
He submitted by that, "Regrettably, I'm not aware of this. However, a licence is not a gun. A gun license is a mere piece of paper authorizing the bearer or licence to own and have possession of a specified piece of arm (gun).
Besides, what's the connection between the allegation of slapping a policeman and police seizure of his gun licence?"
Adeyinka-Fusika, however, refused to give any information about Kuti's bail as his detention period of 48 hours ends on Thursday (today).
It was also gathered that the Lagos State Police Public Relations Officer, Benjamin Hundeyin, did not respond to inquiries about the issue as at the time of this report.
The post Sowore Claims Police Are Planning To Hold Secret Trial For Seun Kuti appeared first on Naija News.