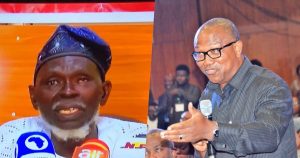 The factional National Chairman of the Labour Party (LP), Lamidi Apapa has insisted that he is fully behind the aspirations of the party's presidential candidate in the 2023 elections, Peter Obi to win his case before the tribunal.
According to Apapa, a victory for Obi which would make him the President of Nigeria would automatically lead to a better life for him as well.
Naija News reports the embattled Apapa made the submission on Thursday during an interview with Arise TV, stressing that none of Peter Obi's supporters can claim to be more obidient than him.
He argued that the votes he got for the party during the election is enough evidence of where his allegiance lies.
In his words, "I am fully behind Obi's mandate, and I've said it several times. None of them can tell me that they are more obidient than myself because where I voted and the votes I got is a confirmation of my wish for Peter Obi to rule Nigeria.
"So none of them can tell me they are more of it than myself. So I am fully with him and on Obi's mandate I am because if he wins the election and he becomes President, I think my life would be better than what it is now, there is no doubt about it.
"I am an elderly person, I understand life. So, anybody that is saying something contrary, that person is just been mischievous.
"I prefer him (Obi) to be there and I keep on maintaining that on Obi's mandate I stand."
The post I Am Fully Behind Peter Obi, None Of His Supporters Is More Obidient Than I Am – Lamidi Apapa appeared first on Naija News.