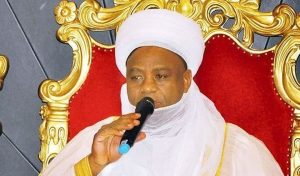 The Sultan of Sokoto, Alhaji Muhammadu Sa'ad Abubakar, has warned the opposition that the President-elect, Bola Tinubu's inauguration will take place on May 29 irrespective of their grievances.
The monarch sent out the warning during a roundtable engagement with traditional and religious rulers on Wednesday in Abuja
He said, "Everyone should know that a new administration would take over on May 29 "whether they like it or not."
He subsequently called on the citizenry to pray for the incoming administration to succeed in steering the affairs of the country.
The event organized by the World Bank was to fashion a way out to increase human capital development in the country especially, the girl child education.
The Sultan said, "There must be change because in the next few days or weeks there will be a new government, what can we contribute to that government to stabilize?
"Whether anybody likes it, it must take place, a new government is coming on 29 May, so what can we do besides prayers because we believe in Almighty, we believe in God that gives and takes.
"After that so what? What do we do to help the government stabilize and move the country forward?"
He added that it is an opportunity for religious and traditional leaders to work together for the betterment of the country.
The post You Can't Stop Tinubu's Inauguration No Matter What – Sultan appeared first on Naija News.