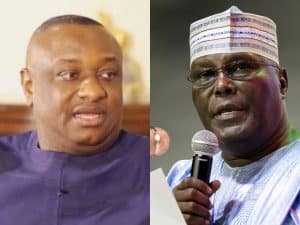 The Minister of State for Labour and Employment, Festus Keyamo, has slammed former vice president, Atiku Abubakar, over his comment on the call between the President-elect, Bola Tinubu and the US Secretary Of State, Antony Bliken.
Naija News reported that Bliken phoned Tinubu on Tuesday after announcing the imposition of visa restrictions on specific individuals who undermined the democratic process during the 2023 elections.
In a statement released by the Spokesperson for the U.S. Department of State, Matthew Miller, Blinken told Tinubu that the Joe Biden administration is committed to strengthening ties with Nigeria.
Reacting in a statement via his Twitter handle on Wednesday, Atiku said Blinken's call to Tinubu contradicts the public position of the US on Nigeria's election.
However, Keyamo in a statement via Twitter on Wednesday, said the call is not a contradiction as the United States, and Blinken, are aware that Atiku and Labour Party (LP) presidential candidate, Peter Obi, are behaving like the ex-president of America, Donald Trump, by refusing to accept their obvious defeat.
Keyamo claims that the US is also aware of the intolerable incidents during the election, perpetrated by all leading parties stressing that Peter Obi got far fewer votes in Anambra State than was declared and dared LP to publish the result on IREV.
According to him, the US also knows that Peter Obi and Atiku would not have won the election considering how they split their votes into three different parties adding Tinubu won the election fair and square.
He wrote, "No, your Excellency, @atiku , it is not a contradiction. The United States and@SecBlinkenknow you and Peter Obi are behaving like Donald Trump in America: refusing to accept your obvious defeat and relying on propaganda to deceive the world. They have your type in the US, so they understand the issues correctly.
"They know both of you could NOT have won when, as opposition parties, you split your votes into 3 parts, with even a revolt of 5 of your Governors within your depleted party. Yes, they know you lost and @officialABAT won, fair and square.
"And for those who perpetrated these irregularities during the elections, the US has applied the appropriate sanctions (and we welcome those sanctions which deepen our democracy), but that is that. IT IS NOT A CONDEMNATION OF THE ENTIRE ELECTION AS YOU HAVE WRONGLY ASSUMED.
"The world has actually moved on, but you and Peter Obi are still standing on one spot. As usual, you and Peter Obi are depending on your usual bullying tactics to overwhelm the US and @SecBlinken and cow them to toe your warped line of reasoning that has NO EVIDENTIAL basis"
The post Keyamo Reacts As Atiku Knocks US Secretary Of State For Calling Tinubu appeared first on Naija News.