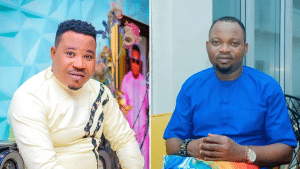 Nollywood actor, Adekola Tijani, has shared a private conversation with his late colleague and friend, Murphy Afolabi.
Naija News reports that Afolabi died on Sunday morning, May 14, 2023, after he reportedly fell in his bathroom in his Ikorodu residence in Lagos State.
The popular actor died at the age of 48, a few days after celebrating his birthday.
Speaking, however, during Afolabi's funeral on Monday evening, Tijani claimed that he had no idea his friend was predicting his death when he sent his quota for their monetary contribution ahead of schedule.
According to him, aside from the money for the contribution, Afolabi had also asked him to come and pick up some clothes he used during his birthday shootout only to receive the news of his death hours after.
"I still called him yesterday (Sunday) when he sent money for a contribution we always do on Sundays, he sent it early and I questioned his decision to send it early.
"His response was we don't know what will happen the next day or in the next minute. I didn't know he was bidding me farewell.
''He called me after his birthday so that I could come and take some of the clothes he used for his birthday shoot. I told him not to worry but I didn't know he was passing a message across to me," Tijani told Goldmyne TV on Monday evening.
The post What Murphy Afolabi Told Me Before He Died – Nollywood Actor Shares Private Conversation appeared first on Naija News.