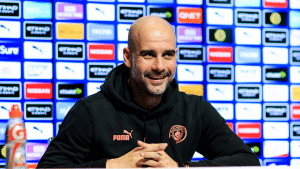 The manager of Manchester City Pep Guardiola has bragged that his legacy at Manchester City as manager is already exceptional even if he doesn't win the UEFA Champions League for the club.
Pep Guardiola is in his 7th year in charge of Manchester City. In those years, he has won virtually all domestic titles available including four Premier League titles and he is on the verge of winning the 5th league title this season.
Just like in the 2020-2021 season in which Pep Guardiola succeeded in taking Manchester City to the UEFA Champions League final for the first time in the club's history before they lost 1-0 to Chelsea, the club are getting close to such a run this season.
Guardiola and his boys are currently in the semi-finals of the Champions League which is the most desired title at the Etihad Stadium right now.
In the first leg of the Champions League tie, Manchester City came from behind to draw 1-1 against the reigning UEFA Champions League winners at the Estadio Santiago Bernabeu last Tuesday.
At 8 PM WAT on Tuesday, Real Madrid will be at the Etihad Stadium for the second leg of the tie which is a must-win for the two teams. Any of the two teams that win the game, will face either AC Milan or Inter Milan in the final on June 10.
Ahead of the must-win Champions League clash at the Etihad, Pep Guardiola who has won the competition twice as Barca's manager said: "My legacy, our legacy is exceptional already. We are not stupid (not) to know how important is tomorrow's game. It's one of the most important since we are together here.
"We cannot deny that, for the competition, for the rival, for many things. I said to the players: 'Live it like a huge opportunity, enjoy the moment'.
"How fortunate we are. We are incredibly lucky to be here. It's in our hands, it depends on us, we don't have to do something exceptional, just be ourselves and win one game to reach a final."
He added, "It's a dream come true to be here. We arrive really good for the fact we are in the FA Cup final, one game away to win the Premier League and semi-final of the Champions League, but at the same time we have to play much better than the Madrid (away) game."
The post Pep Guardiola Brags About His Legacy Ahead Of Man City Vs Real Madrid UCL Clash appeared first on Naija News.