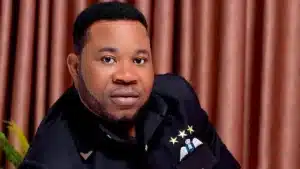 The daughter of deceased Nollywood actor, Murphy Afolabi, Fathia has expressed grief over her father's death.
Recall that the actor died on Sunday, May 14 and was buried on Monday after he sustained injuries from an alleged fall in the bathroom of his residence in Ikorodu, Lagos State.
Following his sudden death, Fathia expressed disbelief and pleaded with her dad to wake up.
She also shared a heartfelt video on TikTok showing beautiful moments of her family together.
"I still can't believe it. Daddy, please wake up. This is too much for me, Daddy," Fathia wrote.
Several of Murphy's colleagues attended his burial. Among them was the president of the Theatre Arts and Movies Practitioners Association of Nigeria, Bolaji Amusan popularly known as Mr Latin; and also Mercy Aigbe.
Murphy was initially scheduled to be buried in Osogbo, Osun State. However, his children insisted he should be laid to rest in Lagos.
Head of Fetuata, Murphy's family compound in Osogbo, Yusuf Lateef gave more insights into it when he spoke with newsmen on Monday morning.
"Initially we were planning to have him buried here in Osogbo but his children insisted that he should be buried in Lagos, where he resides with his family.
"As his family in Osogbo, we have been meeting and making plans concerning his burial and we will be sending representatives to Lagos this (Monday) morning," he said.
The post Murphy Afolabi's Daughter Speaks On His Death, Expresses Disbelieve appeared first on Naija News.