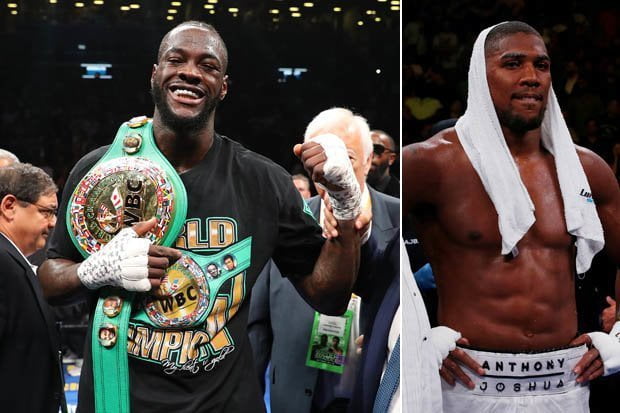 The promoter of Anthony Joshua, Eddie Hearn has claimed that Joshua might still fight Deontay Wilder in Saudi Arabia this year even if Tyson Fury vs. Oleksandr Usyk doesn't take place as speculated.
Joshua made a comeback to the ring in April after an eight-month absence, defeating Jermaine Franklin by unanimous decision.
If Fury vs Usyk bout happens, it would be the first undisputed heavyweight fight in 20 years, but they are yet to reach a financial agreement over the much-anticipated bout.
Boxing promoters are said to be "desperately" trying to hold the Joshua Vs Wilder and Fury vs Usyk bouts on the same night in the Middle East due to the amount of money involved.
"The situation is Saudi Arabia would like to do Fury against Usyk and AJ against Wilder that is on the same night," Joshua's promoter told The Fight Is Right.
"I went out there two weeks ago and they are deadly serious. I've done two big fights with them before. I know they deliver.
"As I understand it, they have been doing their negotiations with Deontay Wilder, which have gone very well.
"They have been talking to Usyk for a year because obviously, he boxed AJ over there.
"They know the rough kind of numbers we want based on what we received for the Andy Ruiz fight and the Usyk fight in Saudi Arabia.
"Fury is another story altogether, but not my business. All I'm concerned about is doing the deal for AJ against Wilder.
"If they can't get Usyk and Fury over the line, they will still do AJ against Wilder. They want this big quartet though."
The Joshua Vs Wilder bout has gained more online attention since Wilder was arrested a week ago for allegedly concealing a handgun. After hours in police custody, the American boxer was released after posting a $35,000 bond.
The post Joshua's Promoter Insists Joshua Vs Wilder Bout Might Happen This Year appeared first on Naija News.