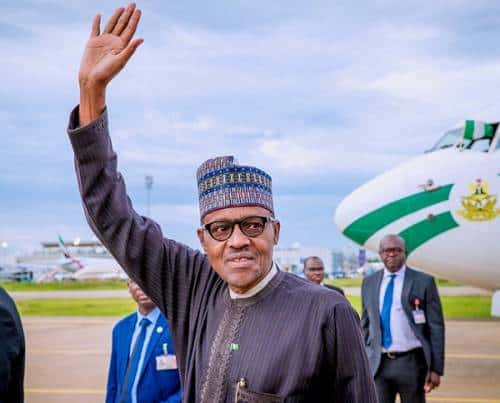 President Muhammadu Buhari on Tuesday returned to Nigeria after an extended trip to London, UK.
Naija News understands the President's plane arrived at the Nnamdi Azikiwe International Airport in Abuja around 4:45pm.
It would be recalled that President Buhari had on May 3, departed Nigeria for the UK to participate in the coronation ceremony of King Charles III of the United Kingdom.
He was expected to return to Nigeria last week after the coronation but a statement from the presidency confirmed Buhari would be extending his stay in London for medical reasons.
In a statement on Tuesday, the President's media adviser, Femi Adesina announced that Buhari would spend an extra week in London, United Kingdom, where he is receiving dental care.
He said Buhari "will remain in London, the United Kingdom, for an additional week, based on the advice of his dentist, who has started attending to him."
According to Adesina, the specialist wants to see President Buhari in five more days to complete a procedure that has already begun.
The President was out of the country for thirteen days.
The post Buhari Returns To Abuja After Extended Stay In London appeared first on Naija News.