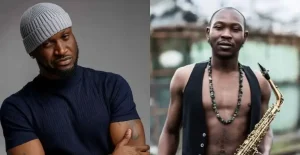 The Lagos State Police Command has on Sunday reacted to the comment made by singer, Peter Okoye on the assault by his colleague, Seun Kuti on a Nigerian police officer.
Recall that Kuti had slapped a police officer on Saturday when his vehicle was stopped on Third Mainland Bridge. The singer claimed that he assaulted the security personnel because his family was threatened.
However, the Inspector-General of Police, Usman Baba, condemned the assault and ordered the arrest and prosecution of the Afrobeat star.
Reacting to Kuti's predicament on Twitter, Okoye argued that the he was was simply trying to protect his family.
He wrote,"When you understand what happens when a man is put in a situation to protect his family from any form of danger, our emotions get the better of us.
"I ask and plead that the #NigerianPoliceForce accept our unreserved apologies for the unfortunate outburst and tamper justice with mercy."
In response, Police Public Relations Officer, SP Benjamin Hundeyin advised the artiste to do the same and face the consequence.
"Whenever you feel an unarmed lone police officer put your family in danger (God forbids it), go ahead and slap the officer.
"Do it in Nigeria and the USA where you visit often. I'm certain eminent Nigerians will bring up this argument of yours in your defence," Hundeyin wrote.
The post Seun Kuti: Go Ahead And Do The Same When Your Family Is Threatened – Police Reply Peter Okoye appeared first on Naija News.