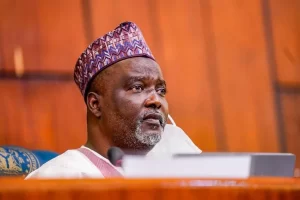 The deputy speaker of the House of Representatives, Idris Wase, has formally declared his intention to join the race for the position of speaker in the 10th Assembly.
Naija News reports that Wase made the declaration on Friday, May 12, 2023, at the Transcorp Hilton Hotel in Abuja.
The member of the House of Representatives acknowledged that all his colleagues contesting for the speakership position are capable of leading the legislative chamber.
However, Wase claimed that the north-central deserves to produce the next speaker because it has not done so since 1999.
The lawmakers said he hopes to build a solid coalition of interests of national importance to achieve a common goal.
He added that his conduct will be motivated by an avowed commitment to national integration to build a society where justice reigns.
He said, "Since the campaigns for the speakership of the House of Representatives began, many of my colleagues have signified their intentions to seek the votes of members to be elected as speaker.
"This is a positive development in the dispensation of democratic governance. Honestly, I cannot single out any one of them that is not capable of leading the house.
"However, it must be noted that in the wisdom of party leadership and by the sheer authority of the constitution of the federal republic of Nigeria, how top national offices shall be shared among the federating units in the country has been explicitly stated in section 14 sub-section 3 of the 1999 constitution of the federal republic as amended.
"Flowing from this, therefore, the constitution of the federal republic of Nigeria has strengthened my resolve to aspire to the speakership of the House of Representatives as a Nigerian from the north-central geo-political zone of the country, to lend my vision, competencies, patriotism and loyalty to the nation's constitution and my party's ideals in the collective mission to build a prosperous nation founded on the pedestals of justice and equality.
"It is on the strength of this that I offer myself to contest and serve as the speaker of the House of Representatives in the 10th assembly in clear deference to Nigerian constitutional provision and with your full support and understanding of Nigerians so that the journey we began together a long time ago can continue to prosper.
"While the primacy of national interest will be of utmost importance, I shall be guided by the six-point agenda of my party (APC) while also actively supporting most honestly the opposition parties as they strife to support legislations that seek to address the concerns of their constituents and other Nigerians in general. Our legislative agenda will always address other matters of interest.
"We need to build on the successes recorded so far within the context of national laws and support Nigerian international commitments that seek to promote the national interest and welfare of all Nigerian citizens."
The post Wase Joins Speakership Race, Gives Reasons appeared first on Naija News.