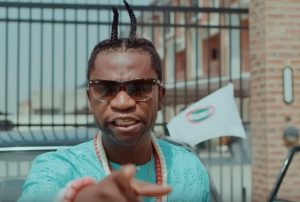 Controversial Nigerian rapper, Darlington Okoye, popularly known as Speed Darlington, has urged the incoming 10th National Assembly lawmakers from the South-East zone to demand a Biafra referendum.
Naija News reports that the rapper gave the charge in a video via his Instagram page, claiming that the Igbos are in bondage.
According to him, the Igbos need to form their own separate country and incoming lawmakers should make the demand and free Igbos from hell.
He said, "Igbo National Assembly members, free us from this hell. Stab APC in the back. Show them your real colour.
"Even though APC made you powerful, stab them in the back, show them your real colour. [Biafra] referendum now! Referendum now! Free your people from this hell hole."
Speed Darlington Rocks Military Camo, Gives Reason
Controversial US-based rapper, Speed Darlington has given reasons why he will not take off the military camo he wears.
Darlington in a video shared on his Instagram on Thursday stated that he will use the military to shine.
In a video he posted online, he said: "I am ready for today. This is what I want to wear. Great IB told me not to wear it the Nigerian Army will use me to shine.
 I told him I will use military shine. I am not taking it off, this is not army design (shows designs). If I am safe in a foreign land, I should be safe in my own father's land."
The post Biafra: 'Stab APC In The Back' – Speed Darlington Charges Igbo Lawmakers appeared first on Naija News.