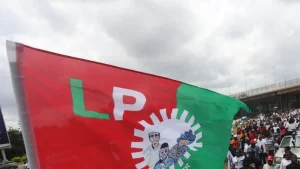 Labour Party National Publicity Secretary, Abayomi Arabambi, stated that any party member advocating for an Interim Government should be arrested and prosecuted.
Arabambi referred to these people as "mercenaries" and "members of mushroom parties" during an interview on Vanguard's Political Hub.
Arabambi urged the Labour Party and its loyal members, known as "Obidients," to be cautious of anyone attempting to incite conflict. He emphasized the importance of following the rule of law.
He said, "These are the people we call Obidiots. They are not part of us, they are just a bunch of mercenaries. These are people that are predators, people that have no bearing. They thought our party is an avenue for them to come and expand their illegal coast.
"Obidients and the Labour Party should be wary of anybody that wants to cause war. The Obidients are the people that are with the Labour Party, who have agreed to follow the rule of law."
Recall that the Lamidi Apapa-led faction of the Labour Party previously distanced itself from calls for an interim government and agitation surrounding the swearing-in of President-elect, Asiwaju Bola Tinubu on May 29.
The faction noted that Tinubu's swearing-in would not impact the legal battle involving their party, the APC, and INEC.
Arabambi explained that the Electoral Act and the Nigerian Constitution do not allow for a vacuum, and only death or permanent incapacity could stop a president-elect from being sworn in.
He argued that refusing to swear in Tinubu on May 29 would create a vacuum in the system, which is not allowed by law.
The post Arrest Any LP Member Calling For Interim Government – LP Publicity Secretary appeared first on Naija News.