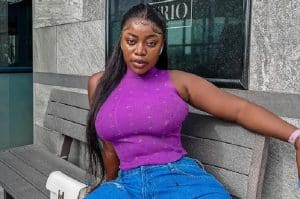 Nigerian skitmaker cum fast-rising actress, Amarachi Amusi, popularly known as Ashmusy, has said sleeping with a man for money does not worth it.
Naija News reports that the controversial skitmaker in a recent interview with Bot Studio, revealed she has never been involved in transactional sex.
Giving reasons for her decision, Ashmushy said she has two lucrative legitimate businesses and sleeping with a man for money is beneath her.
She said, "I cannot sleep with a man for money because it's not worth it. I own two successful businesses, and I can make the money I would be paid from my business in just 24 hours. Sleeping with a man for money is beneath me."
Ashmusy Speaks About Her Wealth
Meanwhile, Ashmusy has opened up about her wealth and how she knew she would be rich and famous since she was 16.
In a recent interview, Amarachi disclosed that she always knew, she'd end up a star as she is very talented in acting and can fulfill any role given to her.
She said: "In my diary as a 16-year old, I wrote that I would become a star in Hollywood. That was even my dream. I am a very ambitious person. I have always known that I would be a very big star, and I am just starting. Acting is a talent for me. I can kill any role you give me anytime, any day. It is a huge talent that I have not even started showing off yet because it's crazy in there."
The post Skitmaker, Ashmusy Speaks On Sleeping With A Man For Money appeared first on Naija News.