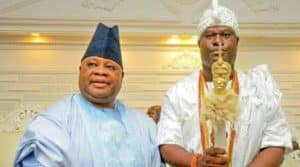 A former National Commissioner of the Independent National Electoral Commission (INEC), Prof. Lai Olurode, has reacted to the affirmation of Ademola Adeleke as Osun State Governor by the Supreme Court.
Naija News earlier reported that the apex court on Tuesday affirmed Adeleke, who was the candidate of the Peoples Democratic Party (PDP) in the July 16, 2022, gubernatorial election, as the Osun Governor.
The five-member panel of the Supreme Court led by Justice John Okoro upheld the ruling of the Court of Appeal, which affirmed Adeleke as governor of Osun state.
In the judgement read by Justice Emmanuel Agim, the apex court held that former Governor, Gboyega Oyetola, failed to adduce enough evidence to prove his allegation of overvoting in the July 16, 2022, governorship poll.
In a congratulatory message to Adeleke hours after the court verdict, Olurode noted that the governor had passed through difficult electoral and legal hurdles and advised him to quickly settle down to commence serious work of responding to the cries of the people in terms of infrastructural deficit.
He also admonished the Governor to ensure an all-inclusive government and avoid winner takes all approach that may create instability.
Olurode equally commended the former governor, Oyetola, for being a gentleman who never sought violence in his pursuit of electoral justice.
In a separate congratulatory message, the Ooni of Ife, Oba Adeyeye Ogunwusi, rejoiced with Adeleke on his victory at the Supreme Court, which affirmed his election.
The royal father in a statement signed by his spokesperson, Moses Olafare, urged the PDP chieftain to develop a robust partnership with the Federal government in the interest of the Osun people.
He also advised the Governor to be magnanimous in victory and lead with integrity, wisdom, and compassion.
"The House of Oduduwa is thrilled to extend her heartfelt congratulations to you on your remarkable and well-deserved victory as declared by the esteemed Supreme Court of Nigeria. This momentous ruling is a triumph for democracy and the will of the Good People Of The State Of Osun.
"The people of the state have placed their trust in you, and we have no doubt that you will work tirelessly to fulfil the aspirations and dreams of the citizenry. Your passion for public service, your vision for progress, and your unwavering dedication to the welfare of the people will undoubtedly guide you in the path ahead.
"Now that you have been finally affirmed as our Governor, you are urged to develop a robust partnership with the Federal government in the interest of our people. We have full confidence that you will be magnanimous in victory and also, lead with integrity, wisdom, and compassion. Your tenure is an opportunity to bring about positive change, uplift communities, and foster an environment of inclusivity, progress, and development," Ooni of Ife's congratulatory message to Adeleke reads.
The post Adeleke: Ex-INEC Commissioner, Ooni Of Ife Reacts To Supreme Court's Ruling appeared first on Naija News.