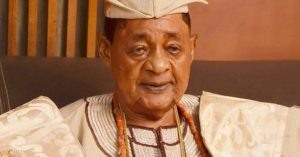 The Alaafin  of Oyo royal family and Oyo Metropolitan Development Associations have concluded plans to commemorate a year's departure of the late Alaafin, Oba Lamidi Adeyemi III.
It would be recalled that Oba Adeyemi joined his ancestors on 22 April, 2022 in a hospital in Ado- Ekiti, after reigning for 52 years on the throne.
The remembrance program is scheduled between Thursday 11 May and Saturday 13 May, 2023.
The son of the monarch, Akeem Adeyemi revealed that a lot of activities have been earmarked for the remembrance.
The lawmaker representing Afijio/Atiba/Oyo East/ Oyo West Federal constituency in the House of Representatives also revealed that ICT centers would be commissioned at the Federal College of Education (Special) Secondary School and at the School of Science, Oyo.
While a borehole project would be commissioned at Orisunmbare Community in Araromi area of the ancient town.
"It's another way to immortalize our late father. Though, we have been doing things since he departed.
"We are just using this to mark the first anniversary. It has not been easy since he left because he was an uncommon support base.
There is nothing we can do than accept the reality and move on
It won't stop here. We will continue to bring the dividends to our people
"Oyo people have proved they are not ungrateful people. They appreciate those who have contributed to their developmet
So i like everyone to join us on Thursday and Saturday this week as we commission these projects and pray for the repose of our late father," Prince Akeem Adeyemi said
The post Family To Hold One Year Remembrance For Late Alaafin Of Oyo appeared first on Naija News.