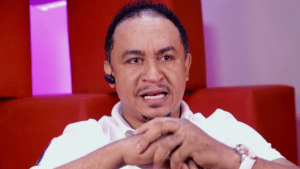 Popular media personality and 'Free the Sheeple' pioneer, Daddy Freeze has reacted to the newly enhanced body of Nollywood actress, Sonia Ogiri.
The actress had flaunted her new body in an Instagram live session with Daddy Freeze.
During the Live, Ogiri who recently underwent breast enlargement surgery had shown the On Air Personality different angles of her enhanced br*asts.
During the session, the thespian, who recently underwent breast enlargement surgery, showed the OAP different angles of her enhanced breasts.
She said, "I will show you [my breasts] then we can now forward the discussion. Everything is looking good. You can see the breasts, so it's not like what you think. Can you see it? Can you see the boobs?
"I'm still wearing my scarf. Yeah, I agree this is how I wanted it looking like that. Yeah, it's what I wanted."
Freeze, who seemed awestruck at the size of her chest asked the thespian if the size would not serve as an impediment to her while driving.
He asked, "Is this one not too much? What if you are in a car and you break suddenly?"
The actress replied, "Yeah, you have seat belts. You have seat belts."
The post Is This Not Too Much? – Daddy Freeze Reacts As Sonia Ogiri Shows Off Newly Acquired Body appeared first on Naija News.