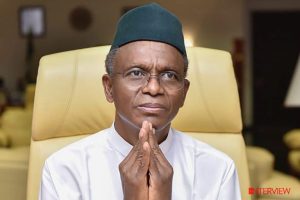 Kaduna's governor, Nasir El-Rufai, on Tuesday stated that he will visit the state only if needed after leaving office.
El-Rufai while speaking at a policy conversation and book launch in Abuja, also said he wouldn't become the federal capital territory (FCT) minister even if asked.
He, however, didn't reveal his future plans but ruled out accepting the FCT minister position.
The outgoing Kaduna State Governor said he does not look back once a job is done and recommended younger individuals for the FCT minister role.
El-Rufai at the event urged private sector workers who have achieved financial stability to serve in the public sector to help improve the country.
He warned against the consequences of poor governance and encouraged good people to participate in government.
The Kaduna State Governor said, "I have done my job, I'm done, I don't look back. In fact, when I left FCT, the only time I visited FCT was in 2016 when my secondary school classmate was appointed the minister and he said he wanted to see me, so I went there.
"Once I leave a job, I don't look back. If I leave Kaduna in 19 days, I will only visit if it becomes necessary.
"So, I don't think about the FCT. I've done my bit. I don't comment on the performance of those that came after me.
"Even if offered, I'm not coming to Abuja. As I say, I never repeat class and there are many young people I know that I can recommend that would do even better job than I did as minister of FCT.
"I'm too old for this. I'm too old for demolition, get a young man with blood in his veins or a young woman.
"If you are in the private sector and you have met your basic financial needs, you have your own house, come through the public service and contribute so that you turn around the country, otherwise whatever you have in the private sector can be destroyed by a consistently bad government. It is only a matter of time.
"If good people that have an independent mind and a voice can stand up and say we must do the right thing and nobody can intimidate him are not in government, please don't complain that things are not working well.
"And do not complain when you wake up one morning, all your money has been wiped out or a government says take your money to the bank, we are doing currency redesign and they keep it and say we are not giving you, don't complain because that is what you get when you allow scumbags to be in government."
The post El-Rufai Reveals What He Would Do After Leaving Kaduna As Governor appeared first on Naija News.