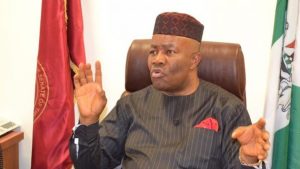 The All Progressives Congress (APC) National Publicity Secretary, Felix Morka, has clarified that the nominations of Godwill Akpabio and Abbas Tajudeen for top National Assembly positions are not final.
Morka said the recommendations can change, as every party member is allowed to contest elective positions.
He explained that the party's decision to micro-zone the positions aimed to reduce contention and ensure fair regional representation among the National Assembly's principal officers.
Naija News had earlier reported that APC nominated Akpabio and Tajudeen as Senate President and Speaker of the House, respectively, with Barau Jibrin as Deputy Senate President and Benjamin Kalu as Deputy Speaker of the House.
Morka, who appeared on a Channels Television program on Tuesday, emphasized that national interest influenced the party's micro-zoning of positions.
He stated that the APC's constitution allows for consensus, negotiation, and consultation when disparities arise.
Morka said, "The announcement made yesterday was the outcome of protracted consultations, engagement with the leaders, stakeholders including many of those who have expressed aspiration for these offices in the incoming tenth assembly.
"I know what you said is true that typically parties may zone to regions and leave up the micro-level specification of suggestions, but that is one module.
"We are the APC and we thought it necessary to actually go a step further because the field already as we see was already getting very heavy and just to reduce the scope of contentions and we thought to go a step further to actually
"In our constitution, consensus is a mode for the selection of those who play whatever role or capacity. This means you can negotiate and consult where there is some level of disparity of what might be a preferred position for the party.
"We are making a big deal out of this unnecessarily because, at the end of the day, the party is only offering ideas and suggestions looking at the big picture because when people aspire, they are blindsided by their aspirations and don't quite the whole national interest but the party is in opposition to seeing things from that level."
Akin Alabi, a lawmaker from Oyo State, also agreed that the contest is open to all, and the APC's nominations will not prevent others from joining the race.
He added that President-elect Bola Ahmed Tinubu is still consulting on the National Assembly leadership despite the party's nominations.
The post 10th Assembly: Akpabio, Abass Recommendation Not Final – APC appeared first on Naija News.