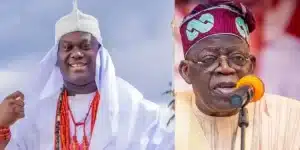 The Ooni of Ife,  Enitan Ogunwusi Adeyeye, Ojaja II (CFR) has appealed to supporters of both the presidential candidates of the Peoples Democratic Party(PDP), Atiku Abubakar and that of the Labour Party (LP), Peter Obi to sheath their swords ahead of May 29.
Naija News reports that the monarch urged Obi and Atiku's supporters who are popularly known as Obidients and Atikulates respectively to forget about the past and work with the President-elect, Bola Tinubu.
According to the Ooni, for the progress of the nation, it would be advisable that all Nigerians across the country regardless of party affiliations unite and work together with Tinubu.
The Ooni made this submission in Lagos while hosting a high delegation sent by Kenyan President, William Ruto headed by Kenya's Chief of Staff and Head of Public Service, Francis Koskie; also Chairman, Dangote Group, Alhaji Aliko Dangote; CEO of Propetrol Harry Ebohen, Governor of Ogun State; Prince Dapo Abiodun and Fintech Guru Kunmi Demuren who met with the president-elect, Tinubu at his Lagos residence.
He appealed to all saying it's best for all hands to be on deck regardless of candidate choice and party affiliations as the election has gone and governance and putting Nigeria on the right path to greatness should be a collective effort
He said "Nigeria remains Africa's largest economy, most populous nation, and a political powerhouse. During my last visit, the Kenyan President assured me of his government's unwavering determination to improve its nations' and businesses' footprints in Nigeria. Africa is the world's engine, and we must remodel its priceless natural resources and safeguard its age-old wealth for our progress.
"As the presidential inauguration approaches, I beseech you all, young and old, Obidients and Atikulates, hopeful and weary, amiable and passionate, to lay down your arms.
"There is no reason to waste time looking back; all we have is today and the future. Now is the time to embrace our diversity and uniqueness. We may differ in opinions and approaches to achieving a better Nigeria, but we all want a nation we can be proud of. Let us come together to support the vision of Asiwaju Gbogbo Ile Oodua."
The post Ooni Of Ife Sends Message To 'Obidients' And 'Atikulates' Ahead Of May 29 appeared first on Naija News.