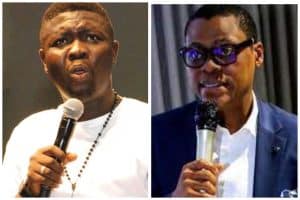 Nigerian comedian, Oluwaseyitan Aletile, popularly known as Seyi Law, has knocked ARISE TV host, Rufai Oseni over a recent attack on President-elect, Bola Tinubu.
Naija News reports that this comes following Tinubu's refusal to refund the Rivers State Governor, Nyesom Wike, the N80 billion spent on infrastructure development of federal roads in the state.
Giving reasons for failing to meet the demands, Tinubu said he cannot make any commitment until he is sworn in as the President.
According to him, he cannot sign a dime of Nigeria money or expenditure and any commitment he makes would be personal and probably might not be able to pay.
Reacting to this, Rufai in a video on his Youtube page, said Wike in the bid to align himself with Tinubu got a huge blow.
He said, "Where is this I owe you nothing coming from. Because when you look at matters critically, it is looking very funny. If there is only one president at a time, why did they have to call the president-elect to commission a project when there is a president around?
"We see a lot of political shenanigans going on. Why didn't he call President Muhammad Buhari, he would have used it as part of his last tour in his duty. In the bid to align with the president-elect, the thing has backfired. Maybe he doesn't know who he is dealing with"
Commenting on an Instagram blog page that shared the video, Seyi Law slammed Rufai and questioned why he had to forgo the ethics of journalism for partisanship.
He wrote: "I thought a journalist would know that a President-Elect cannot make monetary payment commitment until he has been duly sworn in. I thought a journalist would know that a state governor can choose whoever he wants to commission his project(s).
"I thought a journalist would know that Peter Obi once commissioned a project for Wike. I thought a journalist would know that lobbying an incoming president isn't a crime. I thought a journalist would know that pandering to the multitude doesn't make one right. How do you forgo the ethics of a noble profession of journalism for partisanship?"
The post Tinubu: How Do You Forgo Ethics Of Journalism For Partisanship? – Seyi Law Knocks Rufai Oseni appeared first on Naija News.