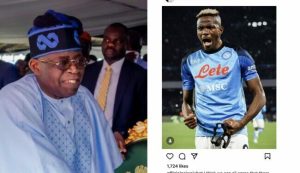 The President-elect Bola Tinubu, has commended Napoli striker, Victor Osimhen for winning the Serie A title.
Naija News reports that the president-elect took to Instagram to congratulate the 24 year old footballer for making the nation proud.
Tinubu, who shared a photo of Osimhen in his page, wrote, "I think we can all agree that there was another coronation in Italy where our son, Victor Osimhen, claimed the crown as the new King of Serie A!
"The real deal, or idán gangan as younger folks may describe him;
"Victor has continued the fine tradition of Nigeria's footballing excellence on the global stage. We are all proud of him and wish him well in what is already a remarkable career."
Victor Osimhen Becomes First African To Score 22 Goals In Serie A
Nigerian prolific forward, Victor Osimhen is now the first African player to score 22 goals in the Italian Serie A
The 24-year-old Osimhen achieved this feat after scoring in the 52nd minute against Undines on Thursday, May 4, to force the Serie A game to end in a 1-1 draw. The goal was Osimhen's 22nd Serie A goal of the season and the goal that confirmed Napoli as champions of the Italian league.
Second-placed Lazio who have 64 points in 33 games will not be able to equal the Naples-based club's points in the remaining five league games this season, hence, Napoli were confirmed winners of the Scudetto with 80 points in 33 games after their 1-1 draw with Undines.
Osimhen who has been the club's talisman all season long had a lot to celebrate after the game. The 24-year-old Nigerian footballer ended the night with the most important goal for Napoli in the last 33 years and also overtook Samuel Eto'o as the first African player to score 22 goals in a Serie A season.
During the 2010-2011 season, Eto'o who is a retired Cameroonian footballer scored a then-record 21 Seria A goals for Inter Milan, making him the first African to be so prolific in Italy.
The post Tinubu Hails Victor Osimhen For Winning Serie A Title  appeared first on Naija News.