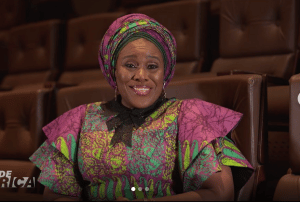 Nollywood actress, Joke Silva, has said she can never allow her home to be used for a movie location.
The legendary actress said even though it's a trendy thing in the industry for apartments to be used as movie set and location in the country, she would never allow it happen at her home.
Naija News gathered that the veteran thespian made this submission while speaking during a recent youth development forum tagged, 'The Roundtable Lekki.'
The actress urged the movie industry in the country to emulate their American counterpart, Tyler Perry who has built 'studios and sound stages.'
She explained that she is very much aware of what it takes for scenes of movie to be shoot, citing that if two people are to shoot a scene, over 20 people have to be present.
She said: "We shoot in apartments these days. But I won't allow movies to be shot in my home; it won't happen
"I know the number of people that are brought into a shoot. There may be two people in a scene, but to shoot it, there will probably be about 20 people there. That means 20 people will put their hands on my wall, block the loo, and do other things.
"We need to build our studios and sound stages, just like American filmmaker, Tyler Perry, has done. He built one of the biggest sound stages in the world. The thing with sound stages is that there are usually facades. I once shot a movie in France, but all the interior shots were taken in London, United Kingdom. All we did in France were the exterior shots to give the ambience of that country. Sound stages give one control. It allows one to make movies at one's desired pace."
The post 'I Won't Allow It' – Joke Silva Speaks On Shooting Movies In Her Home appeared first on Naija News.