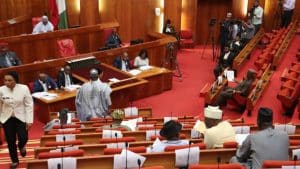 The Coalition of Northern Groups (CNG) has described zoning of the Senate Presidency to the Southern part of the country as unfair action against the North.
Reports emerged earlier amid the tussle for the 10th national assembly leadership that the President-elect, Bola Tinubu, allegedly endorsed the former minister of Niger Delta Affairs, Godswill Akpabio, against the desire of the Senate President, Ahmad Lawan.
Sources that spoke with the Leadership on the outcome of the meeting between Tinubu and some party leaders at his residence in Abuja said Lawan moved to stop Akpabio's Senate Presidency ambition.
However, Tinubu reportedly insisted on his choice to support Akpabio as the Senate President of the 10th Senate.
Defending the course to get the Senate Presidency zoned to the North, CNG spokesperson, Abdul-Azeez Suleiman, said the North-West should be considered for the position of the senate president given that the President-elect, Tinubu, secured his highest votes from the zone.
Speaking during an interview with The PUNCH, Suleiman said since Tinubu is from the South, zoning the senate seat to the same region would be unfair.
He said: "Ideally and for the sake of fairness and balance, the South as a whole should not expect the senate presidential slot with the President-elect coming from there.
"I think we should reasonably be looking at functions here. The functions of the vice-president are just nominal, which means the North might not be seen to hold a functional position just because it has the vice-president. The next functional office after that of the president is therefore the Senate Presidency.
"In this case, since the South has the highest functional office, the next, which is the senate presidency, should legitimately remain in the North, assuming that means anything. It will then be for the North to sub-zone the position to either the North-West or the North Central."
The CNG mouthpiece maintained that North-West played a critical role in the victory of the All Progressives Congress (APC) candidate in the February 25 presidential election.
"The North-West, without a doubt, was where the President-elect got the bulk of his winning votes over and above even his own region, the South-West," Suleiman added.
The post It's Unfair For Senate Presidency To Go To South – CNG appeared first on Naija News.