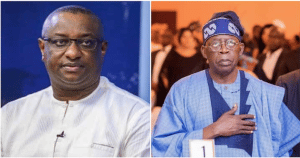 The Minister of State for Labour and Employment, Festus Keyamo, has reacted to a statement by the Director of the Abuja School of Social and Political Thoughts, Sam Amadi, that President-elect, Bola Tinubu's inauguration could be halted before May 29 due to an ongoing tribunal case.
Naija News earlier reported that Amadi made the statement on Twitter, which led to mixed interpretations.
He further clarified the situation in a series of tweets, stating that it is not guaranteed that Tinubu will form the next government.
In his tweets, Amadi explained that the judiciary has the power to reverse the declaration of the President-elect, and there is no constitutional duty to inaugurate on May 29 if the declaration is legally challenged.
Also, there are unconfirmed reports that former president, Olusegun Obasanjo, hired foreign lawyers abroad to help Labour Party (LP) presidential candidate, Peter Obi, reclaim his 'stolen mandate'.
Reacting to this, Keyamo in a post shared on his Twitter page said some unscrupulous characters are taking advantage of poor fellows.
He tweeted, "I read somewhere that some supposedly learned fellow is assuring the nattering nitwits that the inauguration of @officialABAT can be legally stopped before May 29th.
"And yet another story that some foreign lawyers have been flown in to achieve that purpose. And I read many excited reactions from these nitwits.
"Then I shook my head and murmured under my breath, 'illiteracy is truly a disease, and it is sad that some unscrupulous characters are taking advantage of these poor fellows',"
The post Keyamo Reacts To Rumours Tinubu's Inauguration May Be Stopped On May 29th appeared first on Naija News.