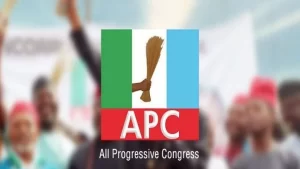 A former All Progressives Congress (APC) chairman in Jigawa State, Habibu Sara, has been sentenced to prison over alleged defamation.
The APC chieftain was accused of defaming the State Governor, Muhammad Badaru, while speaking on a radio programme.
Naija News understands that Sara was arrested by officers of the Nigeria Police Force and charged to court. He was remanded in prison on Thursday, May 4, over his comment aired on radio stations in Jigawa and neighbouring Kano State on 25 and 26 April.
The politician is said to have accused Governor Badaru of convening a meeting in Saudi Arabia with some politicians where they planned to scuttle the incoming administration of the governor-elect, Umar Namadi.
He said: "The governor has already bought vehicles to be distributed to the commissioners of the incoming administration. He should not be doing this because it's not his responsibility to purchase vehicles for the new administration."
"For the past eight years, he (Governor Badaru) bought 200 vehicles whose transactions and distribution were shrouded in secrecy. We are demanding an explanation," Sara claimed in the radio programmes.
However, the governor's aide on media content development, Habibu Muhammad, asked the police, in a letter, to arrest Sara and one other person, Karami Jahun, whom he accused of peddling false information against his principal.
"The above allegations are false and are intended to defame the character of the governor of Jigawa and his servants, including myself (Muhammad) and to incite public disturbance and disharmony in the governance of the state and between Jigawa State and the incoming governor.
"It's against this background that I write this complaint to urge you to investigate the matter and bring the culprit to book if found wanting in violation of the law," Muhammed wrote to the police.
Ruling on the case on Thursday, a Magistrate, Auwal Balago, charged Messrs Sara and Jahun with a three-count charge of defamation of character, an attempt to incite public disturbance and disorder.
Though the duo pleaded not guilty, the magistrate ordered that the accused be detained in a correctional facility till 8 May for the case hearing.
The post Former Jigawa APC Chairman Sentenced To Prison appeared first on Naija News.